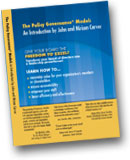 Policy Governance® Model: An Introduction by John and Miriam Carver. 2008.
This 90-minute DVD will help you to transform your board of directors into a leadership powerhouse! Learn how to:
maximize value for your organization's members or shareholders
ensure accountability
empower your staff
boost efficiency and effectiveness.
Featuring five separate learning modules, this DVD can be used both as an introduction to Policy Governance concepts, and as a "refresher" for board members and staff. Just for fun, there is an "outtakes" section at the end of the DVD.
Click here to order your copy now at our online store: The Policy Governance ® Model: An Introduction