Govern for Impact is an independent, charitable organization formed in 1999 and incorporated in New York State in 2001 as a 
501(c)(3)
.
EMPOWERING BOARDS. REIMAGINING THE WORLD…
GOVERN for IMPACT is a for-impact charitable international organization dedicated to building a world where boards lead the organization to achieving clear purpose and critical outcomes. We support boards to lead with integrity and prudence on behalf of their constituents to whom they are ultimately accountable.  Whether elected or appointed, all governing boards  have an innate duty of care to achieve these goals.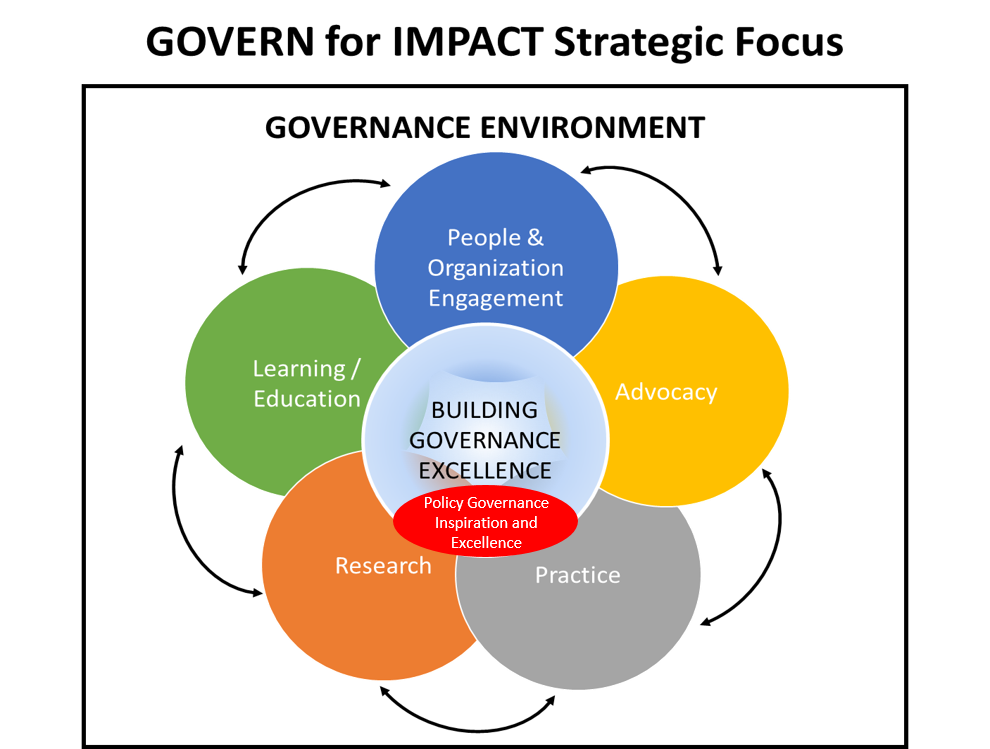 GOVERN for IMPACT engages to:
Identify and disseminate Evidence-based Principles and Practices in Excellence in Governance, as informed by scholar/practitioner research with "real" organizations.
Serve as the leading organization regarding development of excellence in the practice of Policy Governance™.
Publish critical whitepapers on governance concepts and issues, enriched by our community's deepest expertise.
Develop, curate, and deploy a searchable, interactive online collection of multimedia resources to further inform the learning and practice of purpose-focused, principled, owner-accountable governance.
Establish and implement advanced governance designation program(s) and other accessible learning systems.
Galvanize a growing community of researchers, practitioners,  consultants/coaches, and advocates, working together to expand governance excellence throughout the world.
Lead and stimulate global conversations about how effective governance will address challenges facing corporations, governments, for-impact, non-profits, and the world.
Govern intends to further purpose-focused, owner-accountable effective governance through furthering the understanding and application of the Policy Governance™ system and welcomes into membership boards using advanced governance systems, as well as individuals or organizations who teach or are otherwise interested in supporting Govern for Impact and its purpose. 
The Case for Govern for Impact: Empowering Boards, Reimagining Our World
Govern Position Statements
Testimonials and Stories About Govern
2019 Financial Statements and Financial Report
Please use the following links to access Govern for Impact's 2019 financial statements and financial report:
Financial statements for year 2019


About Govern for Impact